Simple Way to Stay Connected with Your Family & Friends
Stay Connected with Your Loved Ones 24/7
Peace of mind that people who matter the most are safe
Keep Track of All Location History of Loved Ones
Get Notified if Your Child Exceeded Speed Limit
Automatically Receive Place & Battery Alerts
Communicate in Private Chats
Keep Track of All Location History of Loved Ones
Get Notified if Your Child Exceeded Speed Limit
Automatically Receive Place & Battery Alerts
Communicate in Private Chats
What is Fameelee?
Fameelee is the most accurate family locator app that allows family members and friends to be in touch 24/7 and to know where everyone from your Circle is at any moment.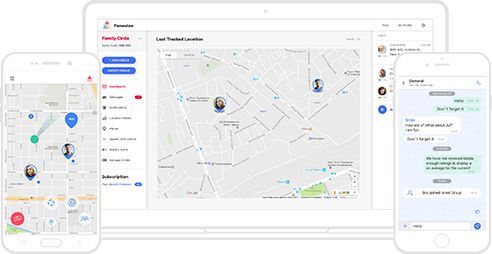 Features
Accurate Real-Time Location Tracking

Check the accurate location of your family members or friends at any time. In addition, get access to their 30-days location history.

Private & Group Chats

Benefit from a real-time group chatting or private chats letting you keep in touch with your family members whenever needed 24/7.

Emergency Alerts

Help notifications will keep you informed whenever your child, friend or other circle member needs help along with their location.

Battery Efficiency

Fameelee has the lowest battery consumption level compared to other competitor's applications, which keeps your device running for a long time.

Places

Determine critical areas to get notifications whenever your circle member arrives or leaves them. This may be school, university, office etc.

Speed Limit Control

Always get notifications if your child or other circle member exceeds the speed limit that you consider safe.
Trusted by 958,000+ Families
Maria Adair

---

Fameelee appeared to be very handy when keeping my kids away from troubles. We can now track our son's location and check whether he is in school or somewhere else.

Megan Pugh

---

This app is just perfect. I have a daughter who is teenager, and she doesn't want to share with me a lot but with help of this app I know everything myslef. Amazing!

Carli Mewis

---

My daughter got into trouble on the street. But due to panic alert, I was able to see where she is. So I had a chance to help her on time. Awesome!

William Jackson

---

Certainly a great app to monitor kids' life. We have three children of different age. Fameelee lets us keep in touch with every kid's smartphone separately.